Highland Park High School

In Memory
Jean Bischoff (Brohm)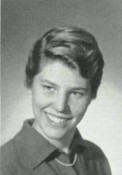 Date of Death: April 20, 2005
Age: 62
Residence at time of death: Coquille, Oregon
Family: Two sons, Jason, who lives in Denver, and Chance, who lives in Coquille, Oregon.
Jean's life: Friends remember an extraordinarily talented weaver and artist who gloried in designing and planting gardens. She lived for many years in Denver, Colorado, where she operated a one-woman print shop that printed artistic work as well as stationery and limited edition books. She designed a geodesic domed house outside of town, doing much of her own construction work. Later she bought a house in Denver and turned the backyard into a beautiful flower and herb garden.
Because "she just knew it was time," friends say, she decided to move to the town of Coquille, population 4,000, on Oregon's southern coast. She found a home with plenty of acreage for growing things and bought herself a tractor. Her friend Judy Beggs remembers that one of Jean's happiest moments was the day she brought the tractor home. She sent a picture of herself sitting atop the farm machine, looking content, her dog nearby. She also became interested in folk music and began organizing small concerts featuring West Coast folk musicians.
One of them was acoustic guitarist Dorian Michael, who remembers how Jean served him "fabulous homemade lentil soup and cranberry bread" at her home after his first performance at the Coquille theater. "She smoked cigarettes and drank whiskey. She was my kind of gal." She suffered from severe arthiritis, but didn't let the condition slow her down. Michael says, "Jean always either got me a friend, an audience, a paycheck or a good meal. If she liked you she had this open, warm way of being. And she was tough as nails."
Judy Beggs summarized our classmate with these words:
"She was part mystic, part psychologist, a complete gardener extraordinaire. She was one of the most insightful people I've ever met. She was widely and deeply informed. She was a great and one-of-a-kind person, a vivid friend, an inspiration and model for living life to the fullest."