Highland Park High School

In Memory
Lynn Ewing (Brown)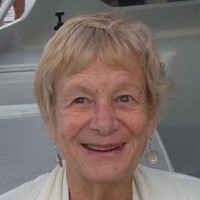 Lynn Ewing Brown, born on February 21, 1941, to Lydia Kawertz and Willard Ewing, passed away peacefully in her home in Foster City, on Saturday, April 9, 2016 at the age of 75. Lynn is predeceased by her parents Willard Ewing and Lydia Kawertz and her brother, Scott Ewing. Lynn is lovingly remembered by her daughter Kathleen Wright, husband Morgan Wright, and her son, James Brown and wife Nicole Brown. There are four grandchildren, Caleb Brown, Joshua Brown, Peyton Wright, & Brodie Wright.
Lynn was born in the windy city of Chicago, Illinois and raised in the nearby suburb of Highland Park. As a young woman she attended Miami of Ohio University where she earned her Bachelors of Education. She then moved to Hawaii to work towards her Masters in English. From Hawaii she moved to Riverside, California where she taught High School English for several years.
She then moved to San Francisco where she worked at Wells Fargo and eventually met Hilory Brown whom she married in 1967.
Lynn never sat still for long moving from San Francisco to Kitzbuhel, Austria then buying and living on a 99-acre ranch in Cloverdale Ca. Lynn eventually found her home in Foster City where she lived for 43 years with her family. A jack-of-all trades she has owned her own magic business, owned The Diet Center in Foster City, for 10 years worked in the offices at Hope Lutheran Church, and was employed by Franklin Templeton. But her favorite and most important job was being a Mother and Grandmother.
She enjoyed church, reading, playing cards with her various card groups, weekly outings with her many friends, going to the movies, walking, working out at the PJCC, spending time with her grandsons and of course her glass of wine!
A Memorial Service will take place at 4:30 pm, Tuesday, April 19, 2016 at Sneider & Sullivan & O'Connell's Funeral Home, 977 S. El Camino Real in San Mateo. A Celebration of Life Reception will follow immediately at the Brown Residence in Foster City.
http://hosting-1085.tributes.com/obituary/read/Lynn-Ewing-Brown-103471708