Highland Park High School

In Memory
Alexandra (Sandy) Gilden (Kaplan)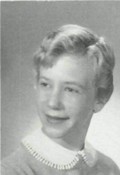 Date of death: February, 2003
Age: 61
Residence at time of death: Newton, Massachusetts
Cause of death: Early-onset Alzheimer's disease
Family: Sandy is survived by her mother Elise; her son Jeremy, who lives in New York and has two children; and two sisters, Jan Gilden, a member of the HPHS Class of 1965 who lives in Tacoma, Washington, and Dorrie Iten-Gilden, a member of the HPHS Class of 1961 who lives near Zurich, Switzerland.
Occupation: Clinical psychologist, professor, researcher on gender issues
Sandy's Life: She had strong intellect in her genes. Her father, Harold M. Gilden, was a Chicago attorney and arbitrator whose skills were so highly regarded that he was asked three times by U.S. presidents to help resolve national labor disputes. He was one of the nation's first arbitrators.
She graduated from the U. of Michigan in 1963, going on to Columbia U., where she received her doctorate in psychology in 1969. She taught women's psychology courses at the U. of Massachusetts for nearly a decade before being asked to be one of a group of feminist scholars who organized the Stone Center for Developmental Services and Studies at Wellesley College. Ultimately, she became director of counseling services and program director for consultation at the Stone Center. She was also a lecturer at the Harvard Medical School.
The Stone Center became recognized among psychological therapists as a pioneer in studying the way gender differences impact various segments of society, including the workplace. Alexandra co-authored "Beyond Sex-Role Stereotypes" and
"Psychology of Sex Roles," and contributed articles and chapters to several other scientific publications. In 1989, she wrote a groundbreaking analysis of why men are three times as likely as women to succeed at suicide attempts. Her conclusion: men facing personal crises are more likely than women to "willfully break all human connections."
Throughout her career as a clinical psychologist, Dr. Kaplan demonstrated a willingness to take controversial positions on complex issues. She was a frequent spokesperson on behalf of anti-war organizations. Testifying in an Ohio child custody case, in which the key issue was the lesbian orientation of the adoptive parents, Alexandra told the court, "There is no evidence that children who are raised with a loving couple of the same sex are any more disturbed, unhealthy, maladjusted than children raised with a loving couple of mixed sex." The judge agreed.
Sandy's sister Dorrie, HPHS Class of '61, sent us this observation from her home in Switzerland:
"Sandy was a rebel, in many ways ahead of her time at HPHS. But she got her tools there in many ways, developing social skills, a capacity for listening, for laughing, for critical thinking. She would never have gotten where she did, I think, with a background that had been less challenging."
In her college counseling work, Dr. Kaplan had this advice for young people, which has been often quoted by counseling progessionals since: "Be aware of yourself and validate your experience. Pay attention to your world, what's happening and why....Feel your strength. Value it and use it."
Well said, Sandy. Well lived, Sandy.