Highland Park High School

In Memory
Lawrence Lucenti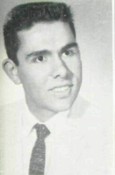 Date of death: April, 1979
Age: 38
Residence at time of death: Cuyahoga County, Ohio (Cleveland)
Family: Wife, no children
Circumstances of death: Sudden, from apparent heart attack
Larry's life: The caption under Larry's graduation picture in the "Little Giant" says it all: "As funny as I can." He was the Robin Williams of the class, complete with occasionally raw but realistic sound effects.
His parents were immigrants from Italy who settled in Highwood. That made Larry a proud first generation native-American, but more importantly it made him a determined student of colloquial American English, a subject which he chose to pursue as a mimic and stand up comic.
On top of that, Larry was an inveterate worrier, so the funny-man routine must have sprung in part from insecurity about everything. There was no "chilling it" in him. All the world loves a clown, and everyone loved "Bear." What a shame for the sad sacks of the world that Larry is not around to give them fodder for laughter in hard times such as these.