Highland Park High School

In Memory
William (Jack) Penninga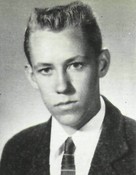 Date of death: May 10, 1987
Age: 45
Residence at the time of death: Weatherford, Texas
Occupation: Sales representative for firm selling high-tech advesive products to the military
Family: His wife Sherry preceded him in death; two daughters, two grandchildren
Circumstances of death: Automobile accident
Jack's life: His friends knew him as "Jack" throughout his adult life. An Army brat who was forced to move from school to school as his dad was transferred, he went through his time at HPHS longing for Sherry, the girl he left behind when his family moved from Missouri to Fort Sheridan. They had vowed to keep in touch, and they did, for years. While others in our class were dating and going to dances, Jack was at his desk writing letters to Sherry, even after she moved with her military family to an Army base in Stuttgart, Germany.
It was a romance conducted by love letter, but somehow they made it work. In 1964, two years after Sherry graduated from high school in Germany, she and Jack were married. Jack got a job as a sales representative for a defense contractor. Within a few years they had saved enough to buy a 12-acre farm in Weatherford, Texas, outside Fort Worth, where they kept horses and cows, and could watch their two daughters play in the beauty of their own peach orchard.
His job called for frequent travel to visit clients, and Jack enjoyed going through local phone books as he moved about, finding other Penningas, whom he would call on the phone to compare family histories. When he was back on the farm from his business travels, he would work on the classic Austin-Healey sports car he had rebuilt himself. Other hobbies included riding motorcycles and sailing small boats in nearby lakes. A music lover, he played the guitar and flute.
Tragically, Jack died just a year after Sherry passed away. He was at the wheel of the Austin-Healey he had lovingly restored when it crashed. He was buried next to Sherry in Weatherford. Their only grandson is named for him -- Jack.
And if you have any doubts about how much those letters from Highland Park meant to Sherry....10 years after his daughters had sold the farmhouse in Weatherford, Texas, they got a call from the people who had bought the ranch. They had found a box in the garage attic which they thought the daughters would want. It contained those love letters from Jack, written from Highland Park, which Sherry had carefully stored away.