Highland Park High School

In Memory
John A. Peterson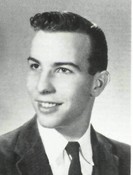 Date of death: August 8, 1996
Age: 56
Residence at time of death: Deerfield
Cause of death: Complications following surgery
Family: Wife Dodi (the former Dodi Tibbetts, HPHS '58), who died in 2004; daughters Kristine Kaatz of Springfield, Mo., Jennifer Corbin of DeKalb, Ill., and Jerry Kathleen Peterson of Atlanta, Ga.
John's life: After attending Southern Illinois University, John returned to the Deerfield area to take a job with the North Shore Gas Co. He and Dodi, who had been sweethearts through high school, were soon married, and began their family.
According to John's sister Kathryn Zimmermann (HPHS class of '56), John was heavily involved in the extracurricular activities of all three of his daughters, coaching little league sports and encouraging them in their studies at Deerfield High School. He was also a Sunday school teacher at the local Presbyterian church. John's major hobby was deer hunting.
His death was sudden and unexpected, taking place in the hospital as John prepared to go home after what everyone thought was a successful operation to cure a problem with his spleen.