Highland Park High School

In Memory
Patricia Peterson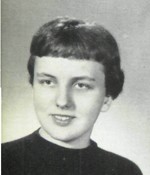 Date of death: October 30, 1993
Age: 52
Residence at time of death: Watertown, Wisconsin
Cause of death: Breast cancer
Occupation: High school English and speech teacher
Pat's life: Daughter of an Army Colonel based at Fort Sheridan, Pat didn't start HPHS until her junior year. Her brother Paul remembers here as "an independent personality" unafraid to try anything new even though a spinal cord disease she had from birth left her with weakened legs. "There was nothing she couldn't do," Paul said.
The Petersons were a large, close knit family centered in Wisconsin, and Pat loved being around children. She would spend her entire life after HPHS either preparing to teach or teaching.
After getting an education degree at the University of Hawaii she took a faculty job in Wisconsin, and remained at the same high school for 35 years, teaching English, speech and drama. She went back to Hawaii to work on her master's degree in the summers, finally earning the advanced degree in 1971. She was so well respected in the community that she was elected to the board of education while she was a faculty member. She loved to travel and read, and would send family members books she thought they should read. Her big hobby was sewing, and she would tackle major projects such as making a set of curtains for one of ther brother's homes. Her sense of humor can be seen in the sign she erected in her sewing room: "In the End the Fabric Wins."
Her sister Penni Peterson Johnson sent us this message:
"Pat taught at Watertown High School in Wisconsin for 35 years and never stopped, even when being treated for cancer. We believe she was indeed beating the cancer. Unfortunately, she got the flu. In her weakened condition she was unable to fight it.
She had a wonderful life, dearly loved being an educator, professional shopper and gift-giver. Her family, relatives, friends, students and parents of students miss her dearly.
I know Pat would have loved to have gone to her 50th reunion. She will be there in spirit. Trust me on that -- she'd never miss a party!"