Highland Park High School

In Memory
June Spivey (Kirkish)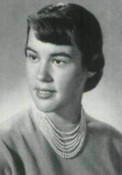 Date of death: November 19, 2002
Age: 61
Residence at time of death: Hollister, California
Cause of death: Brain aneurism related to long struggle against breast cancer
Occupation: Retired Las Vegas showgirl; part-time restaurant server
Family: June is survived by her husband Larry Kirkish, of Menlo Park, California; and two sisters
June's Life: She was one of the Fort Sheridan kids -- her father was in the Army -- and probably the only one in history to become a Las Vegas showgirl.
June had gone to Las Vegas to attend UNLV in pursuit of a career as a teacher. Her major was psychology. But Las Vegas could not have had much appeal as a "college town" in those days. The Vegas "strip"...not far from campus....was where the action was, and the siren song of show biz must have wafted easily into the classrooms and dorms.
About the time of our graduation the gaming industry was in the midst of turning the quaint desert town into the world capital of quick buck dreamers and one-armed bandits. New and better ways of luring the gambling public into the casinos were constantly being tested. (This was before the days when Vegas tried to present itself as a "Family" vacation site). One idea, pioneered by the Dunes Hotel in 1957, was the glittering musical show featuring top name entertainers surrounded by lanky, beautiful women who glided about the stage in feathers and spangles.
June's sister Marlene, who would go on to become a professional comedienne, suggested that she and June audition at one of the casinos which was hiring new talent. For June it must have seemed a lark: "ditching" class for an afternoon in the time tested HPHS manner. Only, instead of heading to Hal's, she went to the Dunes Hotel.
Of course she wowed 'em. At 5-foot-9 and a living doll she was exactly what the Vegas producers wanted. She went to work at the Dunes, saying good-bye forever to Psych. 101, homework and blue books.
June made a 12-year career for herself as a top Vegas showgirl, a position that was rapidly becoming so iconic the casinos put giant replicas of the performers on billboards at the edge of town. The statuesque showgirls in costumes that looked nothing like those baggy blue gymsuits at HPHS were bigger than the slots and Wayne Newton. While some young women might have become jaded or consumed by vanity under the neon lights and constant pressure of bigtime show business, June Spivey never changed from the big-hearted Army "brat" whose caption in the '59 "Little Giant" read, "If you wish to please people, you must begin by understanding them." Her husband Larry remembers her as "the nicest woman I ever met in my life. She was beautiful and strong."
But even the strong and beautiful can eventually tire of a lifestyle where days are indistinguishable from nights and the high rollers are always seeking the jackpot. At the end of 12 years in the footlights June was ready for something closer to reality. She moved back to her home state of California, where her mom worked as a bookkeeper and real estate agent. Settling in the San Jose area, near the city where her grandparents had once owned a movie theatre, June worked as a server in various restaurants. She enjoyed the work because she liked talking to people.
She was, at age 39, still looking for "Mr. Right." Younger co-workers called her "Mrs. Cleever," after the perfect mom, also named June, on the "Leave it to Beaver" show. For about a year, Larry Kirkish, who had played the trumpet in the U.S. Air Force band then gone to work in his family's business manufacturing equipment for the semiconductor industry, was a regular at the club where she worked. He never made a move to chat her up, perhaps a bit intimidated by the ex-showgirl's statuesque beauty.
You blend a Las Vegas showgirl with a product of Highland Park High and you've got some package, one who knows how to make a man pay attention. So one night June sat down at shy Larry's table and said without preamble: "Aren't you going to buy me a drink?" quickly followed by, "Aren't you going to ask me out?" It was a scene right out of a Bogey-Bacall movie. They were married in 1980.
June, according to Larry, was not only the "best wife a man could dream of," but "the best tourist," too. She was frequently in the audience at the California jazz clubs where he and other musicians gathered to play. She also loved to poke around museums and go to zoos. She could ice skate with the best of them. Most of all she loved rugged Yosemite National Park, where the couple would often go on hiking and camping expenditions.
When the diagnosis of breast cancer came, she did not allow it to darken her spirit. There ensued a multi-year battle in which doctors threw everything known to medical science at the disease. June never lost her courage or her sense of humor. She died following one of many operations in 2002.
Larry Kirkish summed up June's outlook on life this way: "She spent her time finding excuses to laugh. She had a childlike spirit."