Highland Park High School

In Memory
Gordon Vines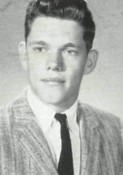 Date of death: October 22, 2007
Age: 68
Residence at time of death: Highlands, North Carolina
Family: Wife of 43 years Marianne; children Scott, Pat, Suzi and Kati; five grandchildren
Gordon's Life: After HPHS graduation, Gordy joined the Air Force, which taught him to be an aviation mechanic and sent him to Alaska. After his four year tour of duty he returned to Deerfield, married a Highland Park girl, Marianne, and immediately joined the town's volunteer fire department. He knew right away that's what he wanted for a career. Helping people in trouble came to him naturally. By 1968, when Deerfield established its first paid, professional fire department, Gordy was one of the ten men hired.
In 1971 Gordy and Marianne moved to St. Petersburg, Florida, where he became a member of the city fire department's emergency medical service. As an EMS paramedic he responded to every kind of emergency from cardiac cases to car wrecks. He also started a handyman-carpentry business and spent lots of his off duty time time fishing in the beautiful waters of the Gulf of Mexico. Like many Floridians, he became a fan of stock car racing, and he tried to get to one NASCAR stock car race each year. All who knew him viewed him as an "incredible" father to his four kids.
Upon retirement in 1990 Gordy and Marianne headed off to the Great Smokie mountains of North Carolina, where he continued to operate a carpenty business and was active in his church.
Marianne sent our class this message about her husband: "He was a great guy, still working at the time of his passing. He just went to bed for the night and never woke up."