Highland Park High School

In Memory
Margretta Winters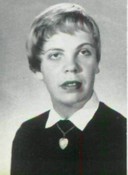 Date of death: December 23, 1987
Age: 46
Residence at time of death: San Rafael, California
Circumstances of death: Margretta was traveling in Asia as part of her work as an educator and contracted a disease doctors could not identify. Returning to the U.S. for treatment, she died two days later.
Occupation: Director of a school for foreign students studying the English language.
Margretta's life: She was born in Chicago, but grew up in Deerfield. The caption under her graduation picture in the Little Giant reads: "What wisdom can you find that is greater than kindness." Her brother Bill noted, "She was popular because she was caring." A classmate remembers, "She was a good friend, a good student and a good person." She played the piano and was a member of the Senior Choir, Triad Music Club and Girls' Ensemble.
She graduated with honors from Earlham College in Richmond, Indiana, then headed off for one year of work and study in Japan. She lived part of the year with a Japanese family, then attended college in Tokyo. She returned to run teaching programs for foreign students under the auspices of the Experiment in International Living, headquartered in in Brattleboro, Vermont.
She became the first director of the organization's school for foreign students who wished to learn English, which was located on a private college campus in San Rafael, California, in the San Francisco Bay area. But much of the time she was traveling to foreign lands to teach, learn and to recruit new students for the school.
She spent a year in a Mexican village which had no electricity or running water. She became fluent in both Spanish and Japanese. She was married briefly to an architect but the marriage ended in divorce. The couple had no children.
Her death, from a malady that struck her on a trip to Asia, was both sudden and unexpected. Her brother Bill summarized the course of Margretta's life with these words: "She had friends all over the world." A co-worker at the San Rafael school has written to tell our class, "Her most memorable quality was joy....what a great human being."