Highland Park High School

In Memory
Nancy Wolff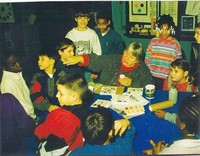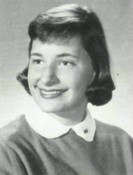 Nancy, a master teacher whose infectious laugh and warmth of spirit were lifelong traits that won her many admirers, died of complications of chronic kidney disease April 25, 2016, after two weeks in intensive care at the Hospital of the University of Pennsylvania in Philadelphia. Her brother, Allan, and sister, Susan Markert, were with her. Planning is underway for memorial services to be held in Philadelphia and Highland Park.
She spent most of her career as an art teacher in Philadelphia, where her tireless efforts made her a beloved and respected fixture at the Meredith magnet arts school. In nominating her for a major award, Nancy's principal described her as "a picture-perfect teacher applying the art of teaching as the framework of 'Children Achieving.'"
Over the years her positive outlook and gift for fellowship created a wide network of devotees. As news of Nancy's death spread in Philadelphia, Facebook erupted with testimonials from her former students, their parents and her colleagues—a vast array of accolades that would have made her quite proud.
"Ms. Wolff was BEYOND amazing," one former student wrote. "Man oh man, she was the visionary behind every aspect of each play and musical that Meredith ever put on. I have the best memories of her always smelling like perfume and paint."
Said one more: "I will never forget when my mom first got sick. Ms. Wolff would give me lunch money . . . allow me to come to her class, just to talk . . . cry . . . or get away."
Yet another Facebook writer concluded: "What a beautiful legacy she left. Loved by all."
After HPHS, where she won the Pat Floyd Award as the outstanding girl in the junior class, she attended the University of Wisconsin and then graduated in art and English from Milton College. She was an art teacher for four years in Oak Creek, Wis., before moving to Philadelphia, where she received a master's in art education in 1976 at Temple University and trained other teachers as a school district curriculum development specialist and instructional consultant.
Next she taught from 1979 until retirement at William M. Meredith School in the Queen Village section of Philadelphia, a K-8 magnet school with a multiracial and multicultural enrollment and 20 percent gifted students. She won grants from the National Endowment for the Humanities and from Paths/Prism, and was nominated by Meredith School for the city's Rose Lindenbaum Improvement-of-Education award. A book produced with fourth- and sixth-graders who studied the original Board of Education building, "A Window to the Past," was printed by the school district and distributed to every school in Philadelphia. She also mentored student teachers from Temple and the University of the Arts.
Her specialty was performance-based art classes. Backed by her deep learning in developmental education, she led children into the joyful creativity of school plays, painting, papermaking, ceramics, costumes, scenery and writing/illustrating their own books. "Piaget and Howard Gardner," her principal wrote, "would be happy to know that their educational theories and recommendations are successfully implemented in Miss Wolff's classroom. Students, who might otherwise fail, have the opportunity to shine and receive the attention they deserve."
Parents praised her as a relentless advocate for art in education who devoted special effort to children who had difficulty. To some of the parents she became a warm and inspirational friend. Several years ago parent Linda Marshall called Nancy one of the great teachers in the Philadelphia school system: "Every fall her eyes light up with enthusiasm and excitement at the thrill of having new talent to nurture."
Donna Cooper, as head of the school's community organization, once wrote that Nancy mastered "balancing delicately between the regulation that children need and the freedom that they love. . . . I have seen children learn the subtleties of color and design, and even techniques that express feelings and cultures. . . . Nancy Wolff exemplifies an ideal to which all teachers aspire: education in an environment of caring and creative intelligence."
Another parent, Joan O'Reilly, wrote years ago in support of an award for Nancy: "In the midst of budget cuts, she continues to dream and find ways to make those dreams reality for her students. She is a woman of vision, of courage and great determination. She teaches not only with words but with her hands and heart. She models for adult and child alike the ability to dream, to take risk, to work hard, to believe in ourselves and each other. Her life is a living tribute to the power of community, commitment and cooperation."
Parents constantly were welcome in the classroom, and they happily enlisted their evenings to help with school projects. One mother recalled, "She told me, 'We need 24 little tuxedos.' My children had graduated, and I was busy at the time, but I just couldn't turn her down."