Highland Park High School

In Memory
Barbara York (Niesen)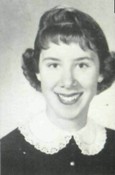 Year of death: 1999
Residence at time of death: Nashville, Tennessee
Cause of death: Breast cancer
Family: Barbara's husband Ronald died in 2004; their daughter Heather Wolper lives with her husband in Cincinnati and has three young children.
Barbara's Life: Her father, J. Robert York, was known as "Mr. Deerfield" for his many years of organizing community betterment projects in what was then a small village. He led the drive to build the library, served as a village trustee, headed the United Way campaign and led the Chamber of Commerce for 25 years. So it was no surprise that Barb devoted much of her life to helping the communities where she lived.
She went to the University of Illinois to study journalism. At her sorority house one night she deftly intervened to fix a situation that could have embarassed Alpha Chi Omega. A fellow who thought he had a date with one of the sisters arrived to find out she had booked two dates for that night. Barb agreed to go out with the surplus guy. The "extra" man was Ronald Niessen, and he and Barb went from the "overbooked" date to wedding bells in 1964.
They were living in Cincinnati, where Ron worked in retail management, when Heather was born in 1978. Barbara delighted in becoming a stay-at-home mom, active in her church's activities and volunteering at the childrens' hospital. Heather remembers "a wonderful mom," who served as a girl scout leader and a docent at the art museum. The family moved to Nashville in 1980, where Barbara continued to follow in her dad's tradition of striving to make a better community.
She was always available to help out on church projects, and was in charge of decorating the church grounds at Christmas time. Her daughter, who decided to alter career plans and go to work for the American Cancer Society after Barbara succumbed to breast cancer, said she just wanted "To do something to give back. I feel so blessed to have had a mother like the one I had."